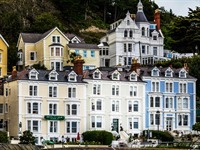 The View is built at the bottom of The Great Orme, nestling into the actual lower slopes. From the public pavement the land is terraced up to our property. Therefore this geographic position means we are not suitable for wheelchair users or anyone with walking/breathing difficulties.
There are 7 steps from the public pavement, (There is a second entrance which is more sloping with gentler steps at the opposite end to these steps) followed by a sloping pathway to another set of 4 steps into the terrace of the property.
8 steps lead up to the main front entrance, although access can be arranged through French doors to the breakfast room, which is below the main entrance level.